I think it has been about a month since I first posted that I had tried to sew and ended up with
.
I learned that I had forgotten to put the foot down. Honest mistake since it has been years since I had sat down at a sewing machine. Doesn't help that I could never get the hang of it.
The same post, I declared an owl was born.
My mom sewed him for me.
I had picked up some crafty magazines back in September and I had found this owl idea in one of those. The woman makes them with Christmasy fabric and makes them into a garland. So I got the idea from this magazine and borrowed her pattern to cut them out. There the similarities end. If I could find my idea book I would thank her here, but not sure where the book is (I cut the article out of the magazine). When I saw these owls I thought, how cute those would be for Halloween instead. I picked up all this fabric and ribbon. My cousin got me felt with adhesive so I didn't have to worry about sewing the eyes or beak on.
It is the Holiday Crafts 2010 from Better Homes and Gardens Creative Collection. The designer was April Foss.
I traced the pattern onto the fabric and cut them out. I have a lot cut out. The rest probably won't be sewed until after Christmas. They aren't much bigger than the one in the picture. I traced eyes on the back of the felt and cut them out by hand. The beaks I just cut out, no two are the same. I then used black brads for the eyeballs. I even blew up the size 150% and 200%. After my mom sewed the purple one, and I saw how cute they really were, I got more fabric. And, like I said, I have several sets cut out, faces on, pinned together with their ribbon, just need to be sewed.
I did get my mom to finally sew a set for me the other day. I went with a fall set. After she sews them, leaving an opening at the bottom, I stuffed them with fiberfill and then hand stitch the bottom shut.
There are 7 to a set. I still wasn't sure what I was going to do with them until the other night it finally hit me.
Aren't they adorable? I picked up this grapevine at Hobby Lobby and glued the ribbons to a twig and then the ribbon to each other (after sealing the end of the ribbon in a candle flame). 6 of them are on here, the other one got its own grapevine.
My mom also sewed one of the bigger ones for me, with the polka dots, and I actually sewed the medium sized one.
I have been featured for the first time ever. I am so honored: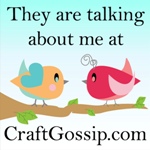 ~~~~~~~~~~~~~~~~~~~~~~~~~~~~~~~~~~~~~~~~~~~~~~~~~~~~~~~~~~~~~~
I linked this with